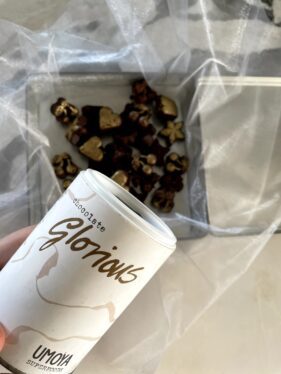 Your nutrient rich chocolate box.
Ingredients
300g vegan chocolate
2 tbsp Umoya Foods Chocolate Glorious
2 tbsp maple syrup to sweeten (if desired)
Method
Grease a silicon mould with coconut oil.
Using a double boiler, melt the chocolate.
Once melted, remove from heat and stir in Umoya Foods Chocolate Glorious and maple syrup.
Pour the mix into your mould and leave to set in the fridge for 3-4 hours. We then dusted ours with a little gold to be fancy, but naturally that is a step your can skip to get straight to the consuming.