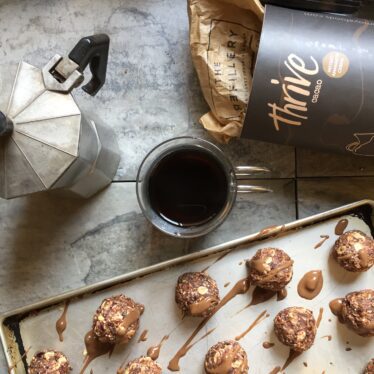 A no-fuss snack for those mid-morning munchies.
Ingredients
2/3 cup Umoya Foods Thrive Cereal ⁠
1/2 cup oats ⁠
1/2 cup shredded coconut ⁠
1/4 cup cacao nibs or chocolate chips ⁠
2 tbsp chia seeds ⁠
2 tbsp flax seed / Linseed⁠
1/4 teaspoon salt ⁠
3/4 cup peanut butter⁠
2 tbsp honey (maybe a little more depending on your sweet tooth) ⁠
1 tsp vanilla essence ⁠
2 tbsp coconut milk (or any liquid you'd like, even water will do) ⁠
Method
Mix all your ingredients together and roll into snack-sized balls! ⁠
Melt together a little peanut butter, cacao and coconut milk to drizzle over at the end if you're looking for a little something extra.