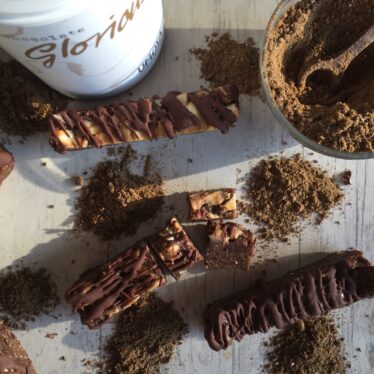 Inspired by Gaz Oakley aka The Avant Garde Vegan
Ingredients
Nougat layer:
1 cup almond flour ⁠
1-2 tsp melted coconut oil ⁠
a few sprinkles of cinnamon, ginger, mixed spice etc. ⁠
⁠
Caramel layer
1 cup Medjool dates ⁠
2 tbsp Peanut butter ⁠
1 tsp Vanilla extract ⁠
1 tbsp Umoya Foods Chocolate Glorious ⁠
1/4 cup Almond milk⁠
Vegan chocolate drizzle:⁠
3 tbsp Coconut oil (melted)⁠
2 tsp Raw cacao⁠
⁠
Method
Mix together your nougat layer ingredients (you want a soft crumbly mix) and press into a loose bottomed/silicon bread tin (24cm x 10cm). ⁠Put to one side while you make your caramel.
Combine all your caramel ingredients and blend together until you have a thick caramel that is still spreadable. You can play with the amount of milk you add to get the perfect consistency. Spread over your nougat layer (about 1cm thick). Gently press halved peanuts into this layer and place the tin into the freezer. ⁠

Once the bars are frozen start on your chocolate drizzle. You can adjust the quantities depending on if you want to totally coat your bars or just drizzle a little chocolate over them.⁠
Put the coconut oil and cacao into a small pan on the stove or melt in the microwave. While your coconut milk is melting slice up your nougat and caramel base into bars. Note that your caramel layer will still be a little soft so you have to work quickly once you take them out the freezer.
Place the bars onto a cooling rack above a baking tray. Check your chocolate drizzle and stir vigorously so that there are no lumps. You can now pour over the drizzle. The chocolate drizzle collected in the tray can be remelted and poured over until you are happy. Allow the chocolate to set and then return to the freezer.
Snack whenever the mood takes you! ⁠