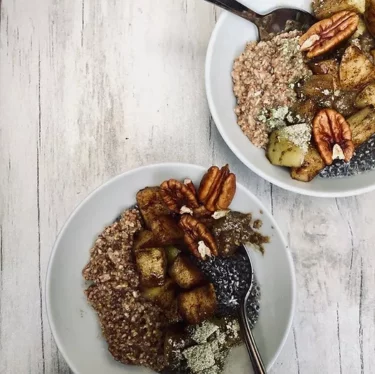 Awaken your senses with this Christmas spiced bowl
Ingredients
1 apple (chopped into little cubes)
A sprinkle of cinnamon
A dollop of honey
1-2 tbsp Thrive Baobab
1 tbsp chia seeds (soaked in 8 tbsp water)
1 – 2 tsp nut butter of your choice
A dusting of Feisty Baobab for some zing
A few nuts if you'd like more crunch.
Method
Combine the apple, honey and cinnamon in a pan and allow it to slowly bubble away on low to medium heat for about 15 minutes turning the cubes every now and then.
Once your apples are soft you can build your bowl starting with the chia seeds and layering up to make something you have to take a photo of before eating!