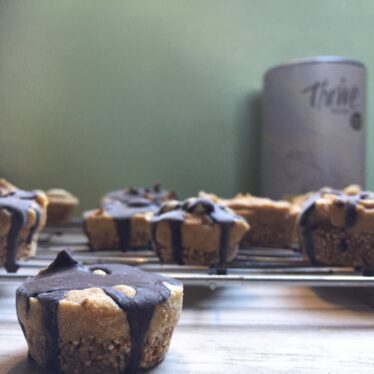 Our take on a vegan snickers bar.
Ingredients
Thrive biscuit layer:
1 cup Umoya Foods Thrive Baobab
1 1/2 tbsp Coconut oil
1 tbsp Peanut butter

Date caramel layer:
2 cups Pitted dates
2 tbsp Coconut oil
1 cup Almond milk
1 tsp Vanilla essence or paste
1/2 cup Water
1/4 tsp salt
(more if you're going for a salted caramel)

Chocolate coating:
Coconut oil
Cacao powder
Method
Melt the coconut oil and peanut butter together. Stir in the Thrive and press into cupcake holders, a silicon tray or loose bottomed cake tin depending on your preferred treat shape! All you need to do is be able to easily pop them out once they're frozen

Blend your dates, almond milk, salt, essence and coconut oil together. Add the water little by little until you have a thick but 'runny' caramel (think nutbutter consistency). Spread this over your biscuit layer and place it all in the freezer to set.

Melt a few tablespoons of coconut oil and stir in enough cacao to make a runny and glossy melted dark chocolate coating. Place your frozen snack on a wire rack and quickly pour over as much or as little chocolate as you'd like. You can completely cover the caramel or make little patterns.

Store in the freezer. The caramel layer becomes soft and delicious quite quickly so you can take it out and let it soften for a few minutes while you make a cup of tea.